A total of 171 people, including journalists, have benefitted from a free eye check, courtesy the Correspondents' Chapel of the Nigeria Union of Journalists, Plateau State Council, in collaboration with Sight Savers Nigeria.
The one-day exercise aimed at preserving the eyesight of members of the pen profession, featured eye tests, distribution of free medicated glasses and free eye drops.
According to the World Health Organisation (WHO), vision impairment poses an enormous global financial burden, with an estimated 411 billion US Dollars lost in the work place productivity due to poor vision. The global health body added that loss of vision can affect people of all ages. WHO estimates that globally, at least 2.2 billion people have a near distance vision impairment. Out of the 2.2 billion, at least 1 billion of these cases could have been prevented or can easily addressed with spectacles or cataract surgery.
Many people with vision loss are unaware of it, hence the need for regular vision checks by eyecare professionals so that vision impairment is identified as early as possible, and that actions are taken to preserve eyesight.
During the free eye check exercise held at the Press Centre in Jos, media practitioners cutting across print, electronic and online platforms turned out in their numbers to check their eyes.
Speaking on the essence of the exercise, Chairman, Correspondents' Chapel, Mr. Polycarp Auta, said the need for journalists to check their eyes cannot be overstated as every journalist needs a good eyesight considering the nature of their jobs.
Said he: "We understand that having an effective eyesight is very important in the life of every journalists and that is why we reached out to Sight Savers who are into eye health and eyecare services to come and check the eyes of our members to ensure their eyes are oaky.
"We believe that the eye is the window of the human body. The eye check is open to the public after all, members of our chapel are not many. And so, we felt all journalists including their family members and the entire NUJ community in Plateau State should benefit from the exercise."
Addressing journalists on the partnership between Sight Savers Nigeria journalists, an Ophthalmologist and Senior Program Manager for eye health, Dr. Selbyen Penzing, said they are "keen on ensuring that people who are blind get services restore vision in case that can be restored."
Dr. Penzing said "And for people with vision impairment, we have preventive measures that they need to prevent blindness from occurring.
"We have a huge scourge of blindness in Nigeria and magnitude of it has not been given the needed attention and we are aware of the role the media play in ensuring that attention is drawn to eye health.
"Journalists have been working with Sight Savers but this is the first time we are having this kind of collaboration."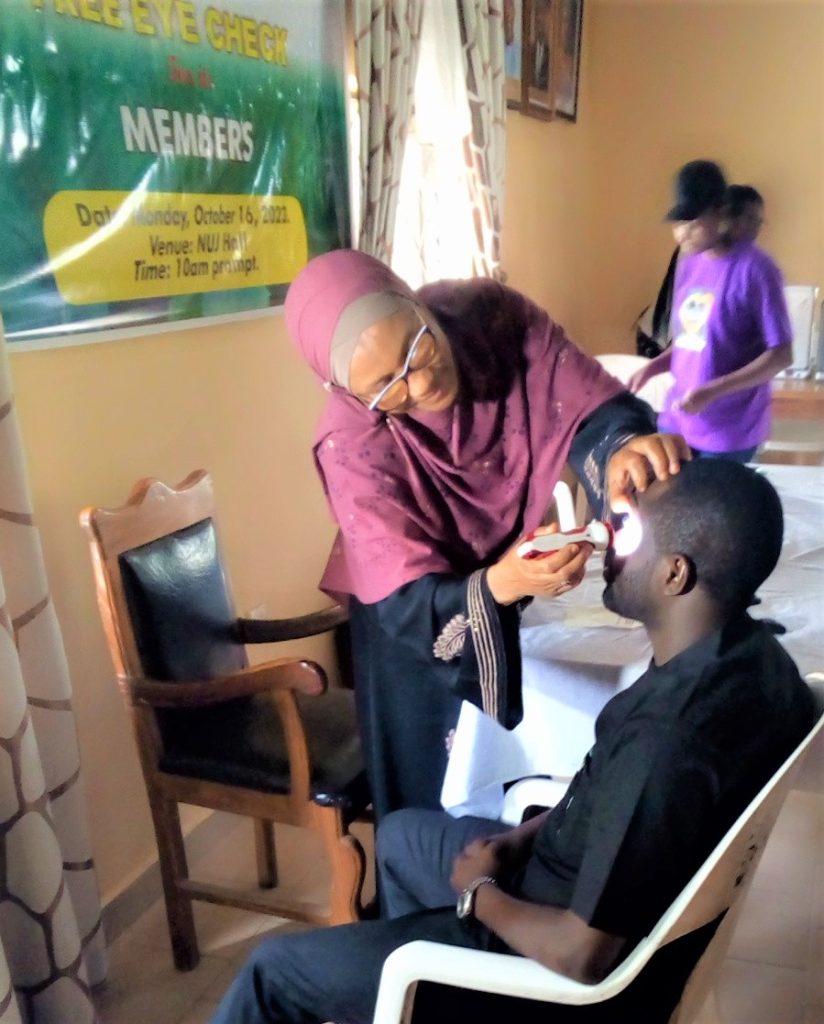 For one of the beneficiaries, Ladi Emmanuel, the National Internal Auditor of the NUJ, the free eye check could not have come at a better time than now.
Said she: "I really commend the initiative by the Correspondents Chapel who organized this free eye check. It is timely because I had a problem with the glasses I was using. I was hoping to go back to the hospital to replace my glasses but I haven't gotten the needed attention but this has just come handy for me. Look at the free eye glass and the eye drop that have been given to me."
Another beneficiary and correspondent of the Nation Newspapers, Mr. Kola Adeyemi said "It is timely for us. With nature of our job, they have come to help us. We commend them for taking our job into cognizance and for us to remain focused on the job."
Musa Abdullahi, Chief Security Officer of Jos Electricity Distribution Company Plc, commended the organisers for the opportunity given him to check his eyes especially at this time that the weather is hazy.