By Ralph Madugu
It was a moment for stock taking and deeper reflection on the way forward for Grace and Light Ministry International as the board, management, staff, friends and well-wishers converged on its head office at Dong Kassa, a suburb of Jos, for its 2021 Annual General Meeting.
The AGM was held to present the ministry's financial statements for the year 2020; to receive the report of Directors for the year 2020; to also receive the report of the Auditors for the same year; and to receive a talk on one among the issues of Social Righteousness among other agenda lined up for the meeting.
In his address titled "Hungry and thirsty for Righteousness," Board Chairman of Grace and Light International Ministry, Dr. Mark Hopkins, who was represented by Rev. John Audu, tasked Christians to always hunger and thirst for righteousness instead of running after things that are never worth having.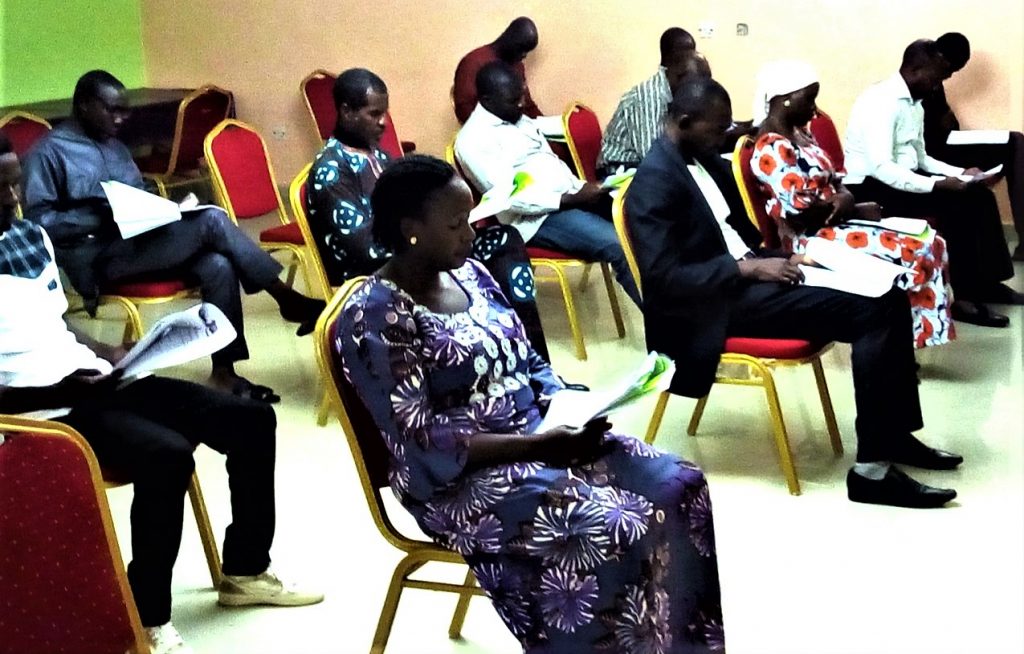 While recalling the experiences of the sad experiences of the ministry in the last one year, Dr. Hopkins said "Over the past year the sad state of our nation has become all us too real for us in Grace and Light through the repeated abductions suffered by our beloved Coordinator, Mrs. Tassie Ghata, and her family. We thank God for delivering them each time. It seems that the great hunger and thirst felt up and down the nation is for money, and that people don't mind what they do to others in the cause of taking it from them. People in power have perfected ways of taking money from ordinary people without them ever getting hold of what was supposed to come their way; those not in a position to do things that way adopt cruder methods, ready to maim and kill in the process.
"Even those who shrink from such violence are still scheming and indeed in many cases even praying to get more than their share, in Churches which are becoming temples of Mammon.
"And yet they are all trying to grab something that was never worth having, to hold it briefly and then lose everything forever. Jesus never promised something as worthless as money to anyone-he always encouraged people to disinvest from it and instead get into things of far greater value. Why have Christians listened to the world and the devil on this instead of to Jesus?"
The Chairman said that the focus of Grace and Light this year is holding out to people the blessing Jesus promised to those who hunger and thirst for righteousness as contained in Matthew 5:6 stating that even the richest are never really contented with their wealth but Jesus promised that all who long to be righteous will be satisfied.
While reassuring of the ministry's commitment to its aims and objectives, Dr. Hopkins said, "We long to see many thousands satisfied by Jesus, their lives transformed by his touch as they put themselves in his hands to live for him. Check yourself as you read this: are you truly living not for yourself but for Christ who died and was raised for you (2 Cor. 5:15)? If you still need to do that, lose your life now, for only then will you find it (Mk 8:35).
"Year by year we have rejoiced to see lives transformed, with righteousness spreading around those who have been changed, so this year we are confident that we will see it again. We long to see God increase our faithfulness first and then our resources-for how can anyone expect him to trust much to those who have been irresponsible with little?
"We must all be serious in our different roles-workers whether staff or volunteers, prayers, givers for there are no passengers on the ship of God's kingdom here on earth, all of us need to be involved in rescuing those who are drowning in the sea of unrighteousness around us."
In a brief exhortation on the topic "The Righteousness that God Blesses", Rev. Danladi Mailumo charged Christians to ensure that their hunger and thirst for righteousness supersedes their quest for earthly things that are temporal.
The cleric, who cited Jacob, Rachel and Hannah as some Biblical examples of individuals that hunger and thirst for righteousness, stated that God is interested in our hunger and thirst for Him.
He added that the righteous that God blesses is such that brings blessings and satisfaction and fulfilment emphasizing that righteousness is not about morality as according to him, the righteousness of God is such that transforms people's lives. "It is easy to have Jesus on the lips but satan in the heart," he stressed.
Earlier in remarks that aptly captured an account of stewardship, Coordinator of Grace and Light International, Mrs. Tassie Ghata, thanked God for His unfailing love and faithfulness throughout the 18 years of the ministry.
She said that the year 2020 in particular was a year like no other as according to her, it was a year about "lock-down and difficulties in surviving because of the lack of essentials of life, without distribution of palliatives, very strange and challenging; there has also been the anxiety of insecurity here and there."
Said she: "The new normal of COVID-19 has changed the world of HIV in 2020, so that not much was said or done about it. I am happy to announce that, despite the problems that overwhelmed the nations, we were able to work, as can be seen from our report. The HIV infection rate is reduced compared to previous years."
Mrs. Ghata, who commended the effort of the partners, financial supporters, team members and friends of the ministry for their support to the ministry in the midst of challenges, recalled that God answered many prayers through the faithful and consistent partnership.
"In this report we have stories of activities that impacted the lives of people including students, with our social righteousness messages on work, corruption, poverty, wealth and gender.
"The normal excuse of "everyone is doing it" is fading away in the Churches we have visited, schools we taught and among people we have met. The ministry hasn't come this far without challenges but I continue to be amazed at God's providence and grace."
On the plans for the year 2021, Mrs. Ghata said that the ministry is hoping to continue the construction of the training centre in partnership with individual donors who are giving N2million for the immortalization of their loved ones.
She added that the building of the centre is also in partnership with Property Pastors.
"Under ministry we are continuing our partnership with Tearfund Nigeria by pushing forward an intervention on Sexual and Gender Based Violence (SGBV), Church and Community Programme. Please join us in praying for all these initiatives."
This year's AGM featured presentation of 2020 reports by the Board of Directors and Auditors while goodwill messages were received from Grace and Light friends and members from the UK.
Grace and Light International Ministry is a unique Christian movement that was modelled not on any existing approach to ministry but built from a bottom up on the foundation of the Christian Gospel in all its biblical depth, harnessing its power to achieve maximum impact.
It is a mission movement aimed at helping people who currently belong to the old creation to enter new creation in Christ and has Christians as its main target.