By Ralph Madugu
Thirty micro, small and medium business owners in Jos have benefitted from a 2-day intensive training aimed at building and strengthening their capacities in the areas of innovation, growth and marketing to expand their businesses.
The training, which was organized by Gowans Microfinance Bank Limited in partnership with GIZ and GOPA, brought together participants from various business sectors in the state.
Speaking to Today's Challenge, a facilitator with the School of Microfinance and Enterprise Development (SMED), Mr. Emma Kwapyil, said the capacity building and strengthening is a GIZ-GOPA-designed training that commenced in January 2022.
He added that the project was "basically to raise deliberate entrepreneurs" in view of the current challenge of unemployment/underemployment in Nigeria as it had become increasingly difficult for government to tackle the problem of unemployment facing the nation.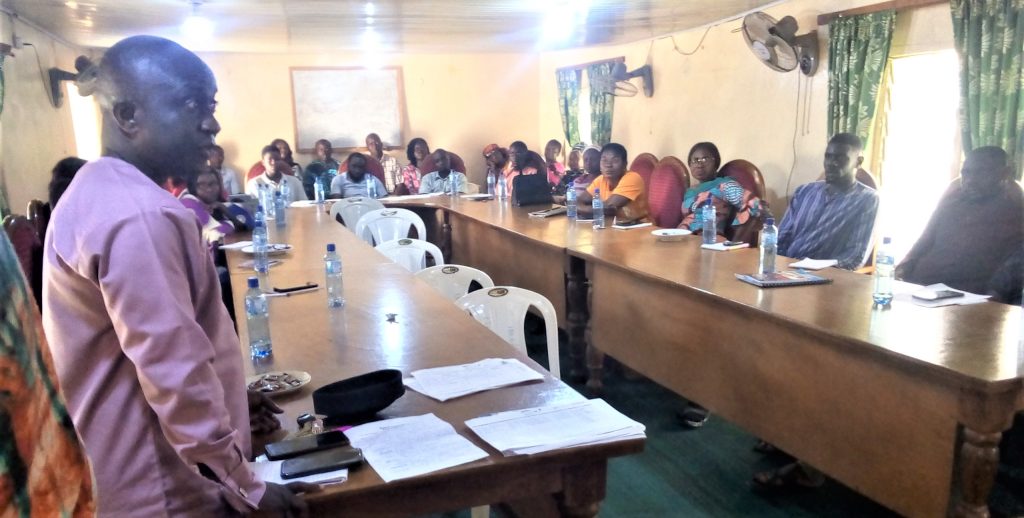 Said he: "The training is in three modules (stages): create module; start module and scale module. This scale module is for those who have been in business for not less than three years and above. These are people who have some level of experience in business and have registered their businesses with the Corporate Affairs Commission (CAC).
"Some people are in business but they have remained in one place for too long. This training is to help them discover ways or ideas to grow or scale up their business to where they want it to be.
"Some of the topics discussed during the training is to help them see how to grow their business through innovation, have a growth plan, get them acquainted with digital marketing because of the many advantages that abound in the world of technology.
"One of the things we discussed is the Business triangle. It is a concept that helps people to set their priorities right when it comes to business. A lot of times, people think that money is the most important thing either in starting or scaling business but it is the least important.
"This concept therefore, helps you to consider your attitude towards money, how to manage money and what you think about work. It is basically about the mindset orientation, new ideas and the passion. We taught them the need to look out for problems and provide solutions then money would come."
Earlier, while addressing the participants, Managing Director and Chief Executive Officer, Gowans Microfinance Bank, Mrs. Hauwa T. Kassim said it was the desire of Gowans to reawaken the understanding of the trainees towards using their individual knowledge as according to her, the things being taught were nothing new.
While urging participants to adequately utilize the knowledge acquired during the training, Mrs. Kassim said she was convinced that they had been exposed to other available opportunities that were hitherto unknown to them.
"Everyone feels that he knows how to handle money. I know between yesterday and today, we have seen that we still need some knowledge to help us better manage our businesses and make them different from what others are doing.
"You can choose to make your business different from that of others in whatever ways and you would acquire the customers by your attitude towards your business.
"It was the desire that necessitated the partnership between Gowans and GIZ.
"We are grateful to the partner organizations. Thank you very much for responding to the call for you to attend this training."
At the close of the sessions, Pastor Olatunde Ologere who spoke on behalf of the participants commended the management of GMFB for giving them the privilege to be part of the training which he said "added value" to them.
Some of the participants who spoke on the gains of the training expressed readiness to use the knowledge acquired to improve their businesses.
Suzan Awa Onwuka, a graduate of Mathematics and Statistics who is into massa business expressed joy for her participation in the training sessions.
"I am happy that I was opportune to be part of the training because I have been exposed to new ideas and I would use the knowledge gained to grow my business to a large scale and provide more employment for some of the graduates roaming the streets."
Victor Angodi Egbeka, owner of Bethel Farms and a graduate of Computer Science had this to say, "I learned about innovation and as a graduate of computer science, I intend to apply the innovations into farming to increase productivity and increase sales. I am into poultry and sales of poultry accessories."
Another participant, Jonathan Timothy, a PhD candidate and proprietor of Christ Royalty Academic Jos said "I resigned a paid job and ventured into business by starting a school with an enrolment of 160 students and 17 workers. I am also into agency banking with 15 staff and a bakery with 5 workers.
"I intend to do more business as this training has change the mindset I hitherto had that business was about capital but I now realized that it has to do with desire to provide solution to problems. It is about making up one's mind to venture into business."