The future of human societies depends on children being able to attain their optimal physical growth and psychological development. This period of childhood is widely acknowledged as a turning point. The World Health Organization (WHO) puts it thus: "It is not only a period of great opportunity, but also a great vulnerability to negative influences and constitutes a unique phase for capitalizing on developmental forces to prevent or minimize disabilities and potential secondary conditions." But, ironically, a combination of socio-cultural, economic, political and religious practices tends to serve as limitations that most times deny children, especially the girl-child, the chance to acquire the basic knowledge and skills that are fundamental towards a better and fulfilled future. As the world marks the 2021 International Day of the Girl Child, women and girls are said to represent half of the world's population, hence accelerating their development cannot be emphasized. The need for the world to pledge to empower young girls and women and give them proper healthcare, skill-based learning facilities and equal opportunities and a world free from gender-based violence and discrimination becomes critical reports Ralph Madugu
Celebrating this day is premised on the need to give proper education, healthcare and learning opportunities to young girls and women who are supposed to be safe from gender-based violence and discrimination.
The day was declared by the United Nations to amplify the voices of young girls around the world and increase awareness of issues faced by them.
According to the United Nations, girls are more likely to be cut off, pointing to a gender divide within the digital divide. It was also stated that girls are less likely than boys to be given devices, which affects their numbers in tech-related skills and jobs. The UN is of the firm belief that achieving gender equality and women's empowerment is an integral part of the overall development process.
In 1995, at the World Conference on Women in Beijing, the need for an event focused on young and vulnerable girls was identified.
A resolution to declare October 11 as the International Day of the Girls Child was adopted by the UN General Assembly on December 19, 2011. The year 2020 marked 25 years of the adoption of the Beijing declaration.
This initiative by the women folk began as a non-government international plan of action to address the challenge faced by young women.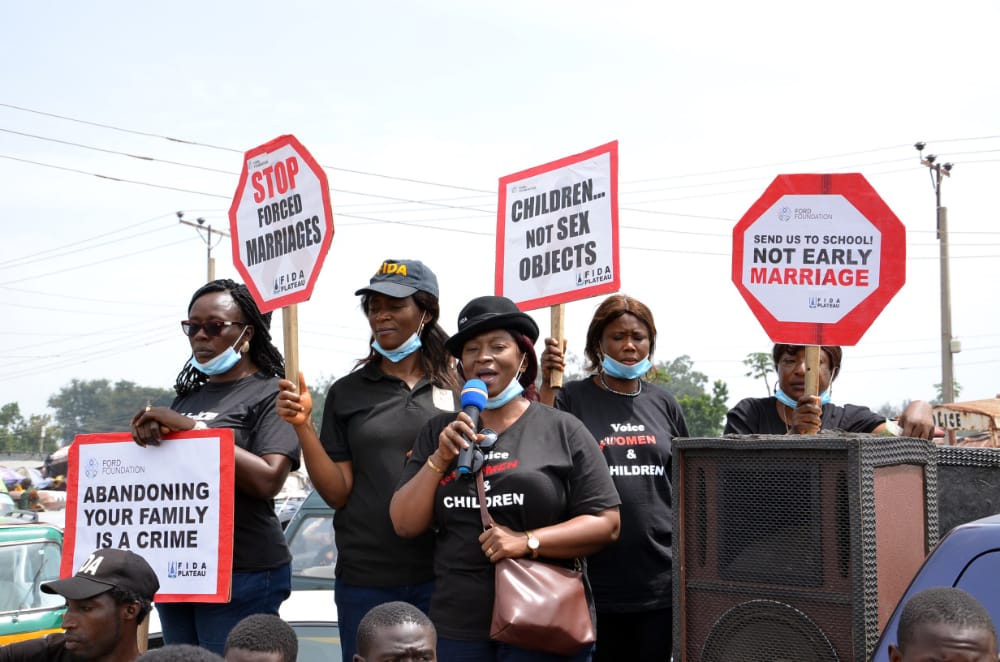 The theme for this years' International Day of the Girl Child "Digital generation. Our generation", stakeholders including women groups working in the area of ensuring the protection of the girl-child, rights' activists and other interested parties have advocated for protection of the girl child from being subjected to any form of inhuman treatment, as contained in the Child Rights Act in 2003.
They are also advocating for not just the enactment of the Act but its effective implementation in many states across Nigeria.
As according to them, the non-enactment and domestication in some states has exposed the girl-child to harmful practices including sexual and gender-based violence, harmful practices as well as other forms of discrimination.
In his message on the day, UN Secretary-General, Antonio Guterres, said the strength, health and empowerment of the world's girls is a matter for every single day of the year stating that the day is an opportunity to recommit to this global imperative.
Said he: "Today's girls are part of a digital generation. It is our responsibility to join with them in all their diversity, amplify their power and solutions as digital change-makers, and address the obstacles they face in the digital space.
"The path to girls' digital equality is steep. A massive gap in internet use spanning geographies and generations has grown from 11 per cent in 2013 to 17 per cent six years later. In more than two thirds of all countries, girls make up only 15 percent of graduates in STEM subjects – science, technology, engineering and math."
He posited that girls have equal ability and immense potential in these fields, and when we empower them, everyone benefits.
"I saw this long before I began my political career, when I was a teacher in Lisbon and witnessed the power of education to uplift individuals and communities. That experience has guided my vision for gender equality in education ever since."
He maintained that investments in closing the digital gender divide yield huge dividends for all.
The UN scribe said the organization is committed to working with girls so that this generation, whoever they are and whatever their circumstances, can fulfil their potential.
He said "The Generation Equality Action Coalition on Technology and Innovation is our new platform, where governments, civil society, the private sector and young leaders are coming together around collective initiatives and investments to support girls' digital access, skills and creativity.
"Together, let us ensure that girls play their full part in the digital generation to design and secure our common future," he stated.
In a message to mark the day, the National Association of Women Journalists (NAWOJ) made a case for the rights, safety and education of the girl child in Nigeria.
A statement signed by Ladi Bala, NAWOJ President and Helen Udofa, National Secretary, the umbrella body of practicing female journalists in Nigeria said in Nigeria, like in other countries, girls face distinct disadvantages for being both young and female.
Making reference to UN statistics, NAWOJ said about 129 million girls around the world were out of school with less than 40 per cent of countries providing girls and boys with equal access to education.
"Over the years, major issues faced by girls include lack of or low level of education, nutrition, legal rights, medical care and protection from discrimination.
"They suffer sexual and gender based violence, gender biases, discrimination, subjection to harmful circumstances and forced child marriage, that impede their health, safety. Stability, education and other opportunities. These reflect the inequality they face in the society."
NAWOJ added that, especially in Nigeria, factors like ethnicity, religion and disability heighten the existing disadvantages that girls face.
"From being denied access to education to being forced into child marriage, our girls face a myriad of obstacles that prevent them from realizing their full potential.
NAWOJ also pointed out that for millions of girls in conflict and crisis areas, these challenges are especially formidable and when women and girls lack power in their homes and communities, they are inevitably affected more than others in situations as armed conflict, drought, flood or COVID-19.
While calling on governments at all levels to commit to ensuring opportunities and equality for girls, NAWOJ urged that all hands must be on deck to tackle those "persistent barriers against equal opportunities for our girls as well as those that are inimical to the advancement of girls in Nigeria.
"NAWOJ urges governments to ensure every girl has access to educational opportunities she requires to build a better life for herself in addition to keeping girls in school, since education is essential to women's future."
Speaking with Today's Challenge Magazine, Plateau State Chairperson of International Federation of Female Lawyers, (FIDA), Barrister Mary Abah Izam implored young girls to strengthen their capacities in digital technology so as to empower themselves for sustainable development.
She also charged them to be resilient in pursuing education for a viable career in order to have an equitable and improved society.
In his message on the day, Plateau State Council Chairman of the Nigeria Union of Journalists, Paul Jatau, who advocated for the protection of the girl-child lamented that the African society imposes a second class status on her by prioritizing the education of the boy child.
"The boy child is seen as one to carry on the family name. We must endeavor to make the girl child an integral part of our culture," Jatau stated.
Similarly, Marie-Therese Nanlong, a mother of 4 who spoke to this magazine on the importance of the day, described it as "very significant" because it seeks to create the enabling environment to not only empower but amplify the voices of young girls around the world.
She added that it is also a day to draw the attention of the world to the plights of young girls some of whom she said have been "abducted while seeking knowledge in schools."
While urging all stakeholders to rise to the occasion and create the necessary atmosphere that would enable young girls realize their potentials.
Said she "As the day is being celebrated, I urge all relevant stakeholders to rise to the occasion and create the needed atmosphere for young girls to realize their potentials in all endeavours and protect them from harm."