By Ralph Madugu
In line with its role in setting agenda and drawing attention to issues of public interest, the media in Plateau State under its umbrella body, the Nigeria Union of Journalists (NUJ), organized an event with focus on the theme: "Beyond Politicking: Harnessing Plateau Potentials."
Held at the Tamarald Event Centre, Jos, the gathering was aimed at highlighting the need to move beyond the usual politicking that takes place in Plateau State. It was also targeted at investing time to discuss ways of harnessing the potentials and resources of the state for development and for the common good of all.
In his welcome remarks, State Chairman of the Nigeria Union of Journalists (NUJ), Mr. Paul Jatau, said that the event was not only dear to the NUJ but was conceptualized to challenge the people of Plateau State about the kind of state they want and how they intend to achieve it.
Said he: "To be honest, the political atmosphere has never been as toxic as it is at present and as the fourth estate of the realm, it is our responsibility to set an agenda that would be helpful to steer the ship of our state in the right direction.
"It is such kind of needless toxicity that the discourse sets out to tame to allow for the flourishing of helpful and useful ideas in the state.
"It is our hope that going forward and as we approach 2023, political campaigns and discourses would centre around ideas that would lay a path for the pursuit of growth and development of the state."
In his keynote address, a Professor of Political Economy and Development Studies and current Director of Research, National Institute for Policy and Strategic Studies, Kuru, Jos, Prof. Dung Pam Sha said that it was time to remind all political actors, the operators of the state bureaucracy and citizens of the potentials that exist in Plateau State and the need to consciously reactivate the state machinery to convert them to strengths to be used for the benefit of all.
Prof. Sha, stated that for Plateau to move beyond politicking and rethink a patriotic agenda for the development of the state, political actors must rise abovethe usualwinner takes all approach to politics, excessive partisanship that brings about exclusion, spending years blaming previous administrations, name calling to denigrate previous administrations, exclusion on the basis of ethnicity, religion, zones, states, local governments, districts, wards among others.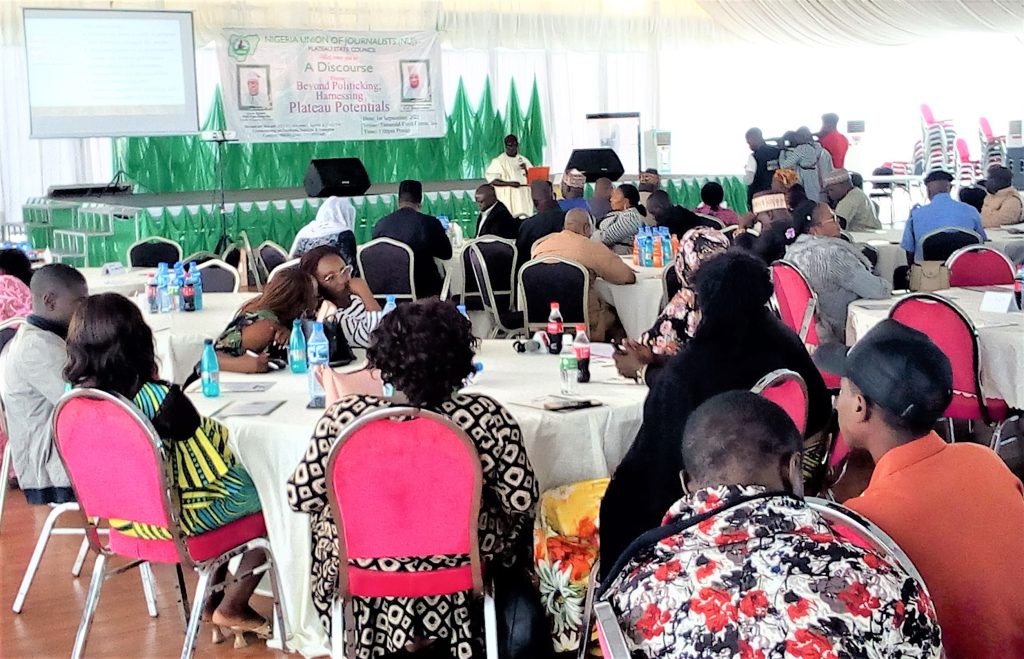 According to him, rethinking a patriotic agenda for the development of Plateau State demands political actors to shun thepractices of unequal distribution of resources and projects based on the quantity and quality of political support during elections, blackmail, praise-singing, opposition versus ruling party fights, election rigging and imposition of candidates.
Prof. Sha posited that pure politicking impedes development by reducing the level of unity of purpose and cohesion amongst the people, weakens possibility of development through lowering the level of governance, service delivery leading to catastrophic spending and pilfering of resources.
Highlighting some of the potentials of the State and how they can be harnessed for the common good of all, Prof Sha listed industrial, agricultural and environment as some among the numerous potentials the state was endowed with.
On strategies for realization, the guest speaker described the cultures of the peoples as well as the events they periodically organize, were some of these potentials.
According to Prof. Sha, they could be harnessed by means of supporting the promotion of both movies and music industry through private sector involvement and Public Private Partnership in the promotion of football and the internationalization of the game.
Said he: "The state to work with cultural groups to introduce innovations into cultural festivals.
"The state to ensure that relevant Ministries, Departments and Agencies and the private sector-cooperate to ensure that talents are harnessed and used appropriately. Promote the activities of male and female artisans."
On harnessing the industrial resources in the state, Prof. Sha called for the empowering of local producers towards forming producer processing and export cooperatives as prescribed by the Mineral Act.
He suggested private sector participation under strong state regulation and control, empowering private businesses to commence local processing of raw materials within Plateau State/the country among others.
On harnessing the agricultural potentials, the don stated that the people of the state are majorly engaged in one form of agricultural activity or the other because the State is blessed with varieties of crops hence commercial farming processing, exports promotion, formation of producer and export cooperative societies and Public-Private Partnership were some of the strategies for the harnessing of these potentials.
In what could be described as setting an agenda for a post 2023 Plateau State, Prof. Sha posited thus: "What should Plateau State look like, Post-2023? We want a Plateau State to be an island of success, a state "standing on the hill and shining the light for all to see"; a land full of milk and honey, a united, strong and self-reliant state, a state with a great and dynamic economy, a land of bright and full opportunities for all citizens and a land that ensures justice and observes democratic ethos."
For the Education sector, he said, "The system has to undergo radical reorganization of primary education to serve as a foundation for other forms of education, aggressively promote technical and vocational education and training – task Technical College and related institution to manufacture and market a product in the country.
"Effort must be made to ensure that roads within Plateau State and between Plateau State and neigbouring states be rehabilitated, urban roads should be decongested, rural roads that were almost completed by the last administration in many districts in the State should be addressed.
"Industries should be established in order to boost employment, establish forward and backward linkages. We can try the "One local government area, one industry" model.
"The governor should ensure that the Local government system is reformed for it to perform. This tier of government should enjoy autonomy which will be checked by community stakeholders, state and federal government.
"Be ready to subvert the old ways of doing things, ready to bring 'disruptive innovations' on board, constitution of a cabinet with the right mix-specialist/generalists/politicians, men and women with shared vision, persons with pedigrees of self-discipline and emotional intelligence."
Earlier in his remarks, Chairman of the occasion and Vice Chancellor of Karl Kumm University, Prof. Nanven Gambo, said the gathering was to set an agenda for Plateau adding that it was a collective resolve to pick up Plateau from the floor to the fore and to take its rightful place.
Prof. Gambo decried the negative politics being played in the state going by the kind of comments on the social media space in the name of politics.
"Politically, I feel so pained the kinds of comments on the social media in the name of politics. We have this misrepresentation of politics. We see politics as an amoral activity and truly speaking that is not what politics is all about."
"People abuse others in the name of politics. They assassinate other people character in the name of politics and all what not. All kinds of anti-social behaviour in the name of politics."
"We need to really set the record straight; that politics is a platform, a social activity that is interest driven and it is imbued with high moral considerations.
"We need to rethink the kind of politics we want to play in Plateau. It is not developmental politics at all.
"Let me stressed this point, that from what I have seen so far, I have not read any of the candidates manifestoes, their vision for the state. All I can see on the social media is this person is this, have not paid salaries, this person is a neophyte and all what not. I don't think that is the kind of conversation that should drive our politics.
"Our politics should be issue driven. What are those gaps you have discovered in the governance of the state so far and how do you intend to fill those gaps. I feel that should be our key concern as progressive minded people. That is not what I am seeing. Brothers are against brothers. If you see the kind of intemperate language used by social media activists, sometimes I feel so bad that have we degenerated to this level? If you are marketing a candidate, do so in a very decent way."
Prof. Gambo who described the theme of the discourse as apt as according to him, "the chemistry of our politics and our leadership is fundamentally defective," adding that it explains why the state is regarded as a civil service state.
He stated that the state was well endowed as, according to him, "nature has been so kind to Plateau. If you look around Plateau, we have no reason to be referred to Plateau as a civil service state. Plateau should be one of the industrial hubs of Nigeria. Everything in Plateau can be converted into something useful and meaningful. We have very good weather and arable land all over and different varieties of crops that can be grown on the Plateau.
"By the time we are done with this conversation, we should have set a progressive agenda for Plateau State. Use temperate language and let us be constructive and not pulling Plateau State as if everything else must be in our favour. That is not what politics should be. Politics is about establishing a progressive, dynamic and effective social order that would guarantee the development of the state. But what we are seeing is the direct opposite. People are trying to incite violence in some ways, people choose language that is offensive. We are brothers, we are opponents, we are not enemies for God sake.
"We must look at politics as a platform for us to drive forward the state. We cannot continue to advocate the kind of politics that we have been seeing on the Plateau which has not brought significant development to the state. There has to be peace and order before we can think of fostering development. Without peace and order, there is nothing we can do. Let us not deceive ourselves. Let us show some measure of maturity. Let us be constructive in our engagements because after politics, we will still be brothers and sisters. So, Plateau State must rise above this.
"Developmental politics is politics of ideas; progressive politics. Whatever government is doing that is not right, yes as an opposition, you can criticize government constructively but not to portray it as total failure. I don't think that would motivate or inspire any government to do its best.
"I believe that at the end of it all, we will harvest very productive ideas that can help change the political landscape on the Plateau."
In his address, Gov. Simon Lalong represented by the State Commissioner for
Information, Mr. Dan Manjang, applauded the contributions of the media to the development of the state.
"We thank the NUJ so much for their support. Let me take this time as the Commissioner for Information to thank the NUJ for the support to the administration."
Gov. Lalong appealed to the people of the state to always think and act Plateau in all they do in the name of politics urging that if the people would think and act Plateau, they should joint hands with whoever emerges winner come 2023 adding that the State belongs to everybody.
He assured that government would continue to do run the state in the best interest of the people of the state forward in line with the administration's philosophy of "Think Plateau and Act Plateau."
The event brought together government functionaries, politicians, professional bodies, civil society groups and community development associations across the state. It featured contributions, comments, submissions and goodwill messages from candidates seeking various political offices in the forthcoming elections.